The most-awaited festivity, Karwachauth—the celebration of the eternal knot of love and respect—is just ringing around the corner! We are not here to put you in any fix but rather inspire you with decadent Karwa chauth outfits elevated with spectacular designs, hues, and details! The auspicious festivity is an ode to the beautiful bond of companionship. Partners observe a rigorous day-long fast without a speck of morsel or water for each other, testifying their commitment and dedication towards each other. Dressing up to the nines and beyond is a must; after all, a hueful glow wrapped in a dosage of self-love is the key to celebrating your partner and etching festive memories for life together. Before we move forward to sartorial jaw-entailing details about our array of Karwa chauth outfits, let's have a look at the festive calendar, auspicious timings, and a few words from our scriptures stating the origin and importance of the celebration.
Pencil Your Calendar Now!
This year, the revelry of love will be celebrated on the 1st of November. Karwachauth is observed on the fourth day of the Karthik month, which is the waning moon of the fortnight, also called Krishna Paksha. The word Karwachauth is made up of two words: Karwa, meaning the earthen pot, and Chauth, meaning fourth. One observes the fast for the longevity and health of their partner. Lord Shiv, Maa Parvati, and Lord Ganesh are the main deities worshipped in this festival. The fast is fulfilled by offering water and some sweets to the partner after giving the arghya to the moon. Kindly check the live updates about the timing of the moonrise as per your location.

Zeal-up for the celebration in our regal round-up of the best Karwa Chauth dress crafted in the finest fabrics, ensuring all the comfort and a great fit you'd require through the festivity. Enlive the joyous spirit of the festivity in our serene edit of the Karwa Chauth special dress, washed in the splash of jewel hues of the magnificent magenta, regal reds, sublime saffron, and palatial purples. Each of the ensembles in our edit of Karwa Chauth outfits is beaded with timeless details inspired by the heritage artisanship, which includes the glimmering kaccha gota work, dreamy hand-painted floral prints, ethereal bandhani, and much more.
Festive Fits Dilemma, No More!
If you are someone who's celebrating the festival for the first time, we suggest you pick something from our opulent edit of Lehengas for Karwa Chauth. The flare and the sublime details would indeed stand true to the sartorial elegance that you need and can't skip! If you are someone who likes going a bit overboard and beyond, a sumptuous saree for Karwa Chauth would work wonders for you. Make sure you style it to stand out by experimenting with the drape, or maybe with the design of the choli, and complete the look with statement accessories. If you are someone on the other end—a lover of the more is less mantra—you can opt for something splendid from our indo western dresses for karwa chauth, consisting of kurta sets for women and co-ords with stellar details. And if you are someone who's looking for something that lies in between regal and hassle-free, your go-to outfit will be an Anarkali suit for Karwa Chauth. Our karwa chauth suits would truly set you apart with their swoon-worthy style lines and designs, which have been crafted by our seasonal designers. Elaborate neck designs, statement backless details, fabulous sleeve cuts, placement of slits, etc.—you name it, you'd spot most of these attributes in our issue of Karwa Chauth outfits.
Enroute Festive Elegance:
We have carefully curated a capsule collection of our Karwa Chauth outfits as per your mood, style, and requirements for celebrating the festivity. To get a full download of our line-up of Karwa Chauth special dresses, visit our website now! For now, sit back and take a refreshing sip of your clear tea while you scroll down to immerse yourself in one good fashion read! We have also added very handy styling spells that will just do the magic you were looking forward to. You can get your bestie on board, and together you all can explore our Karwa Chauth outfits—heart them and then cart them to add them to your festive wardrobes. Happy festive shopping! Time to get enticed now!
Ornate Lehengas for Karwa Chauth ft. The Demure Entrants
If you are the coy and demure entrant, observing the Karwa Chauth fast for the first time, we suggest you go for something regal and breezy to strike the right balance between the first-time charm and ease of movement. Our lightweight Karwa Chauth lehengas are beaded in an array of our finest feather-light fabrics, washed in sublime festive hues. Adorned with heritage-art details, our lehenga for women ensembles are the perfect choice to face the camera for the gram, capturing your memorable first-time-festive moments. We have come up with our Karwa Chauth Lehenga look-book below; to explore more, visit our webshop now!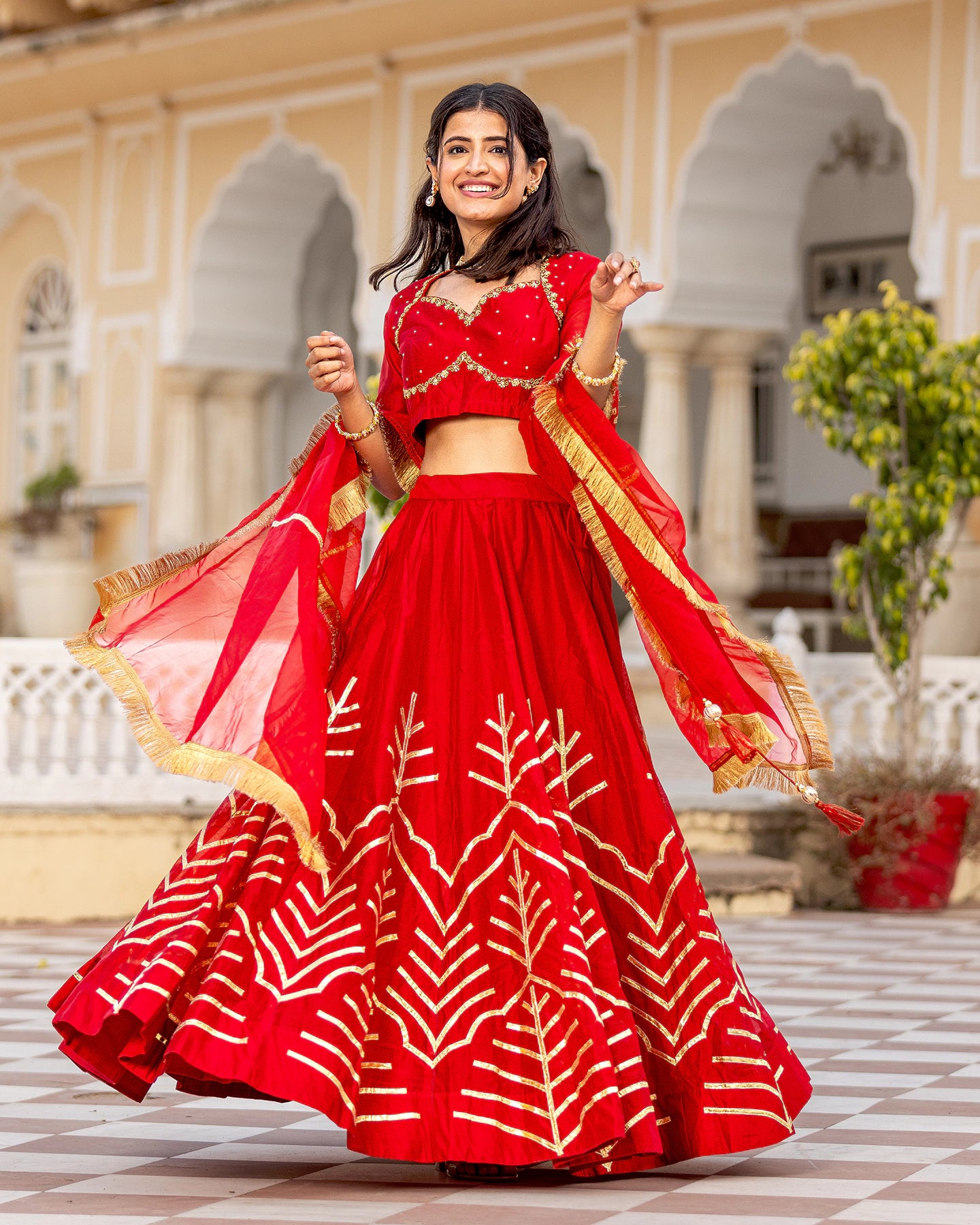 Give a happy twirl as you adorn yourself with solah-shringar in our chanderi lehenga ensemble with kaccha gota work. Gush in grace with the red and gold accents illustrated on our assorted Karwa Chauth outfit.
Style Spell: Go for traditional jewelry sets; you can even wear the ones you styled at your wedding.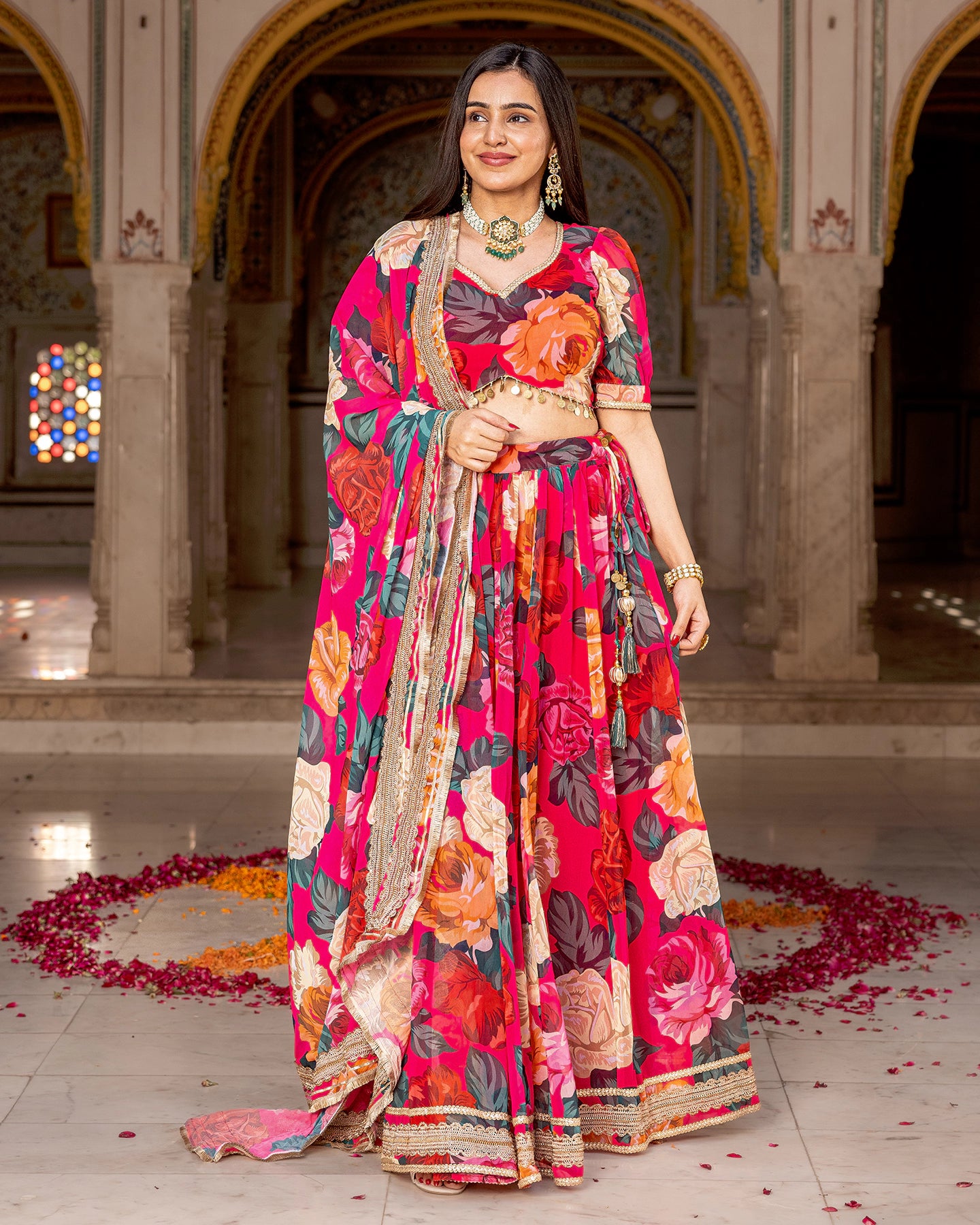 A red-pink tasselled, and floral lehenga would do the magic for the entrant you are. The opulent gota borders and maximal floral accent would add to your romantic getup for the moonlit soiree.
Style Spell: Complement this ambrosial pick from our Karwa Chauth outfits with statement chokers or head accessories.
Anarkali Suits for Karwa Chauth ft. Swearers of the Code Red
If you are someone who is a firm believer in taking the traditional route, we are assured you'll be donning red for the festivity. Step into our regal edit of best suits for Karwa Chauth, washed in jewel-red, further elevated with a flattering Anarkali silhouette. Scroll down to explore our capsule collection featuring karwa chauth suits beaded with tasteful details in the finest fabrics. For more amazing Karwa Chauth outfits, explore our website now!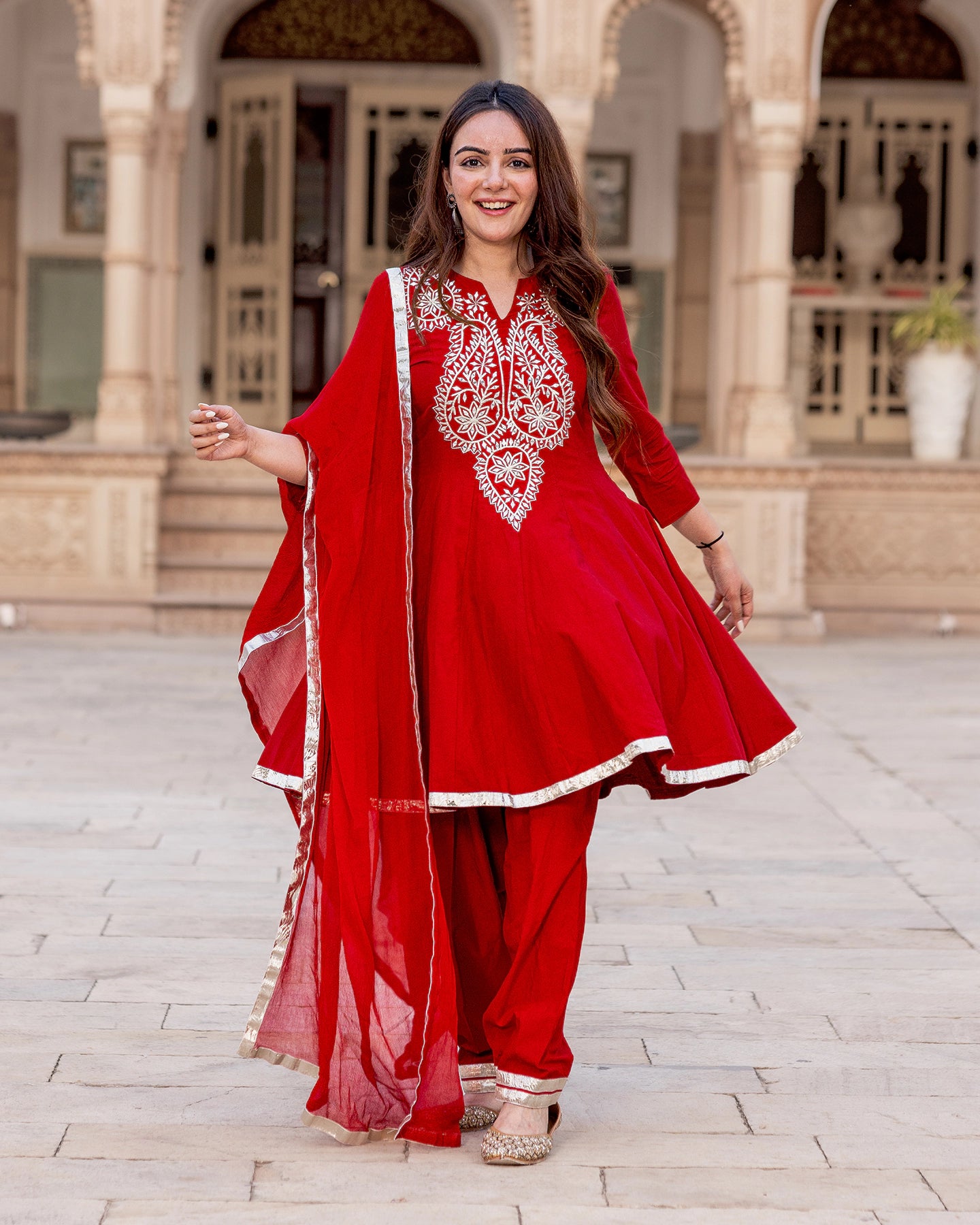 Grace the starry festive eve in regal code, red imbued upon our cotton short Anarkali suit set with gota patti accent. Get moonlight-ready in this palatial fit from our round-up of Karwa Chauth outfits.
Style Spell: Keep the accessories minimal to keep the focus on the ensemble and your dark-rimmed kohl eyes, along with the bindi.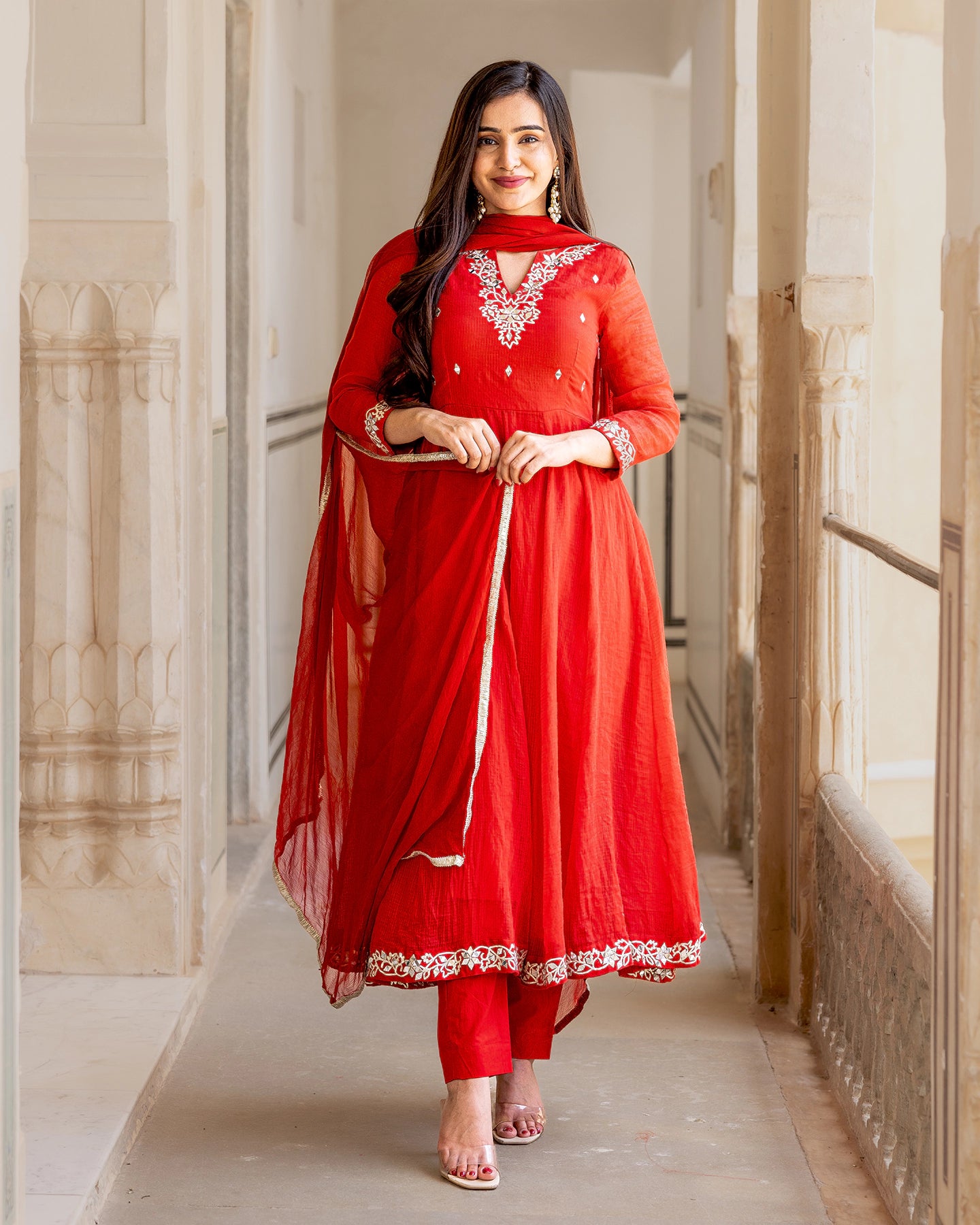 The classics are always a resplendent pick for the festivities. Don our delicate doria anarkali suit set with kaccha gota work and flattering flare.
Style Spell: Go for a statement pair of jhumkas and a bindi to unveil the charm.
Karwa Chauth Outfits for the ones imbued with Glitz-n'-Glam.
Does your sartorial taste fall to the extreme ends of glitz and glam? Going overboard and beyond has always made a concrete fashion statement; we'd say go for it in our favorite creation of Karwa Chauth outfits ornate with the sheen of kaccha gota and sequin accents. Let your outfit shout glamour out loud while you pull off an impeccable festive styling gig. Ensembles in jewel-toned palettes scattered and layered with glimmering elements are what all festive dreams are woven of. Pick your sparkling and shiny silhouette to come right under the golden spot now!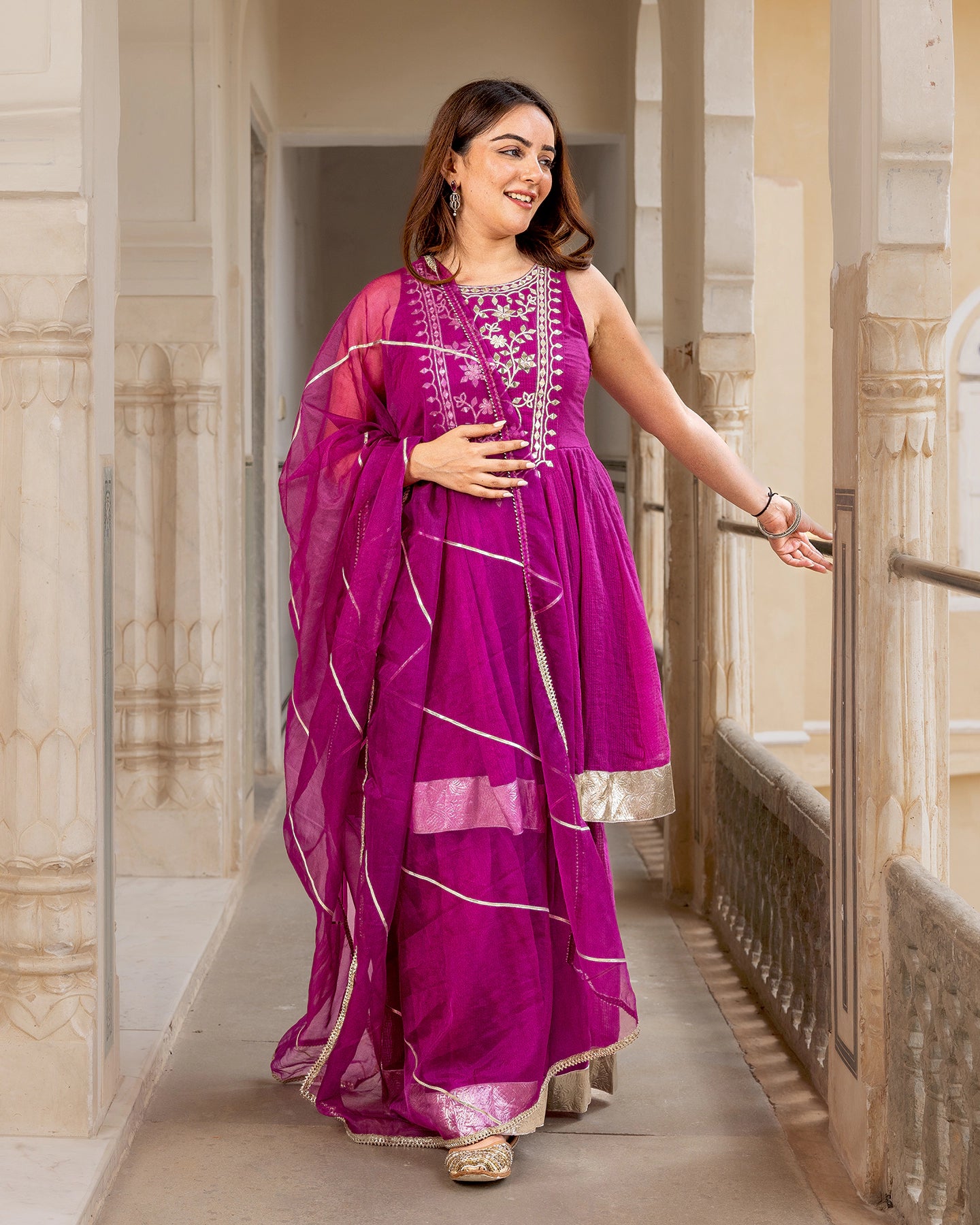 Glam up your festive quotient in our magnificent magenta ensemble, festooned with all the bling you'd need. Crafted on mellow doria fabric with a kaccha gota accent, it is indeed the cherry on top!
Style Spell: How about dazzling studded head accessories along with dewy makeup? You can thank us later!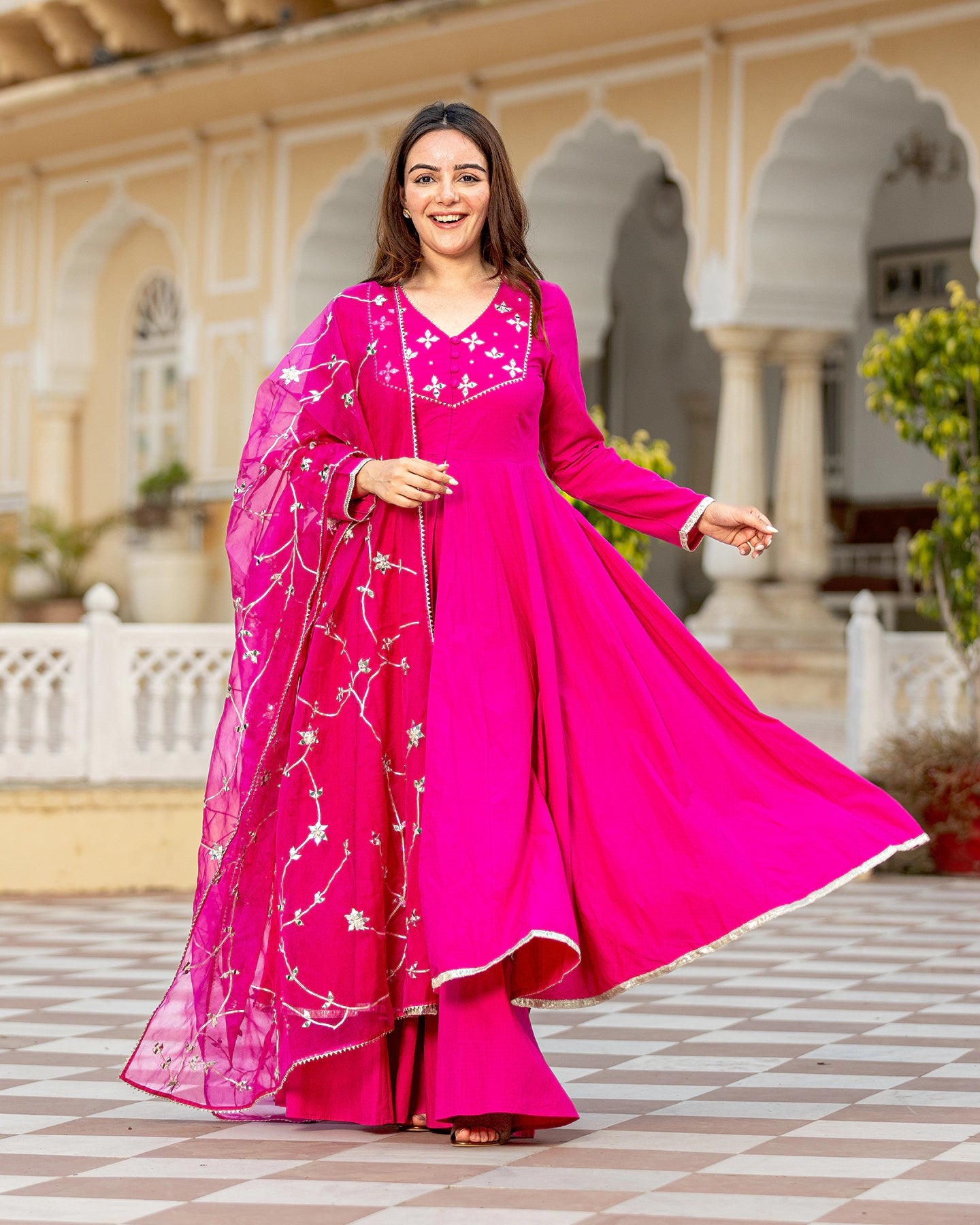 Do we ever get enough of our pink penchant for the festivity? No, and one should not—pick up this pink anarkali ensemble bedecked with the sparkle and sheen of gota patti elements from our edit of Karwa Chauth outfits. Let the symphony of pink and bling unfold your grace!
Style Spell: A decadent choker paired with delicate earrings would complete the ensemble.
Contemporary Sarees for Karwa Chauth ft. The Elegantes.
If you have a penchant for contemporary aesthetics woven into traditional attire, we suggest you go for our edit of Karwa Chauth latest saree ensembles. Essay every bit of elegance and grace into each of the folds and pleats as you explore your innate style in our Karva Chauth special saree edit. Go for a sartorial experiment in our conceptual drapes with ruffles and bold floral imprints. You can even opt for an out-of-the-box draping style teamed with a statement blouse, overlays, or cinches. Since you are the elegante here, we are looking forward to some swoon-worthy looks in our palatial fineries.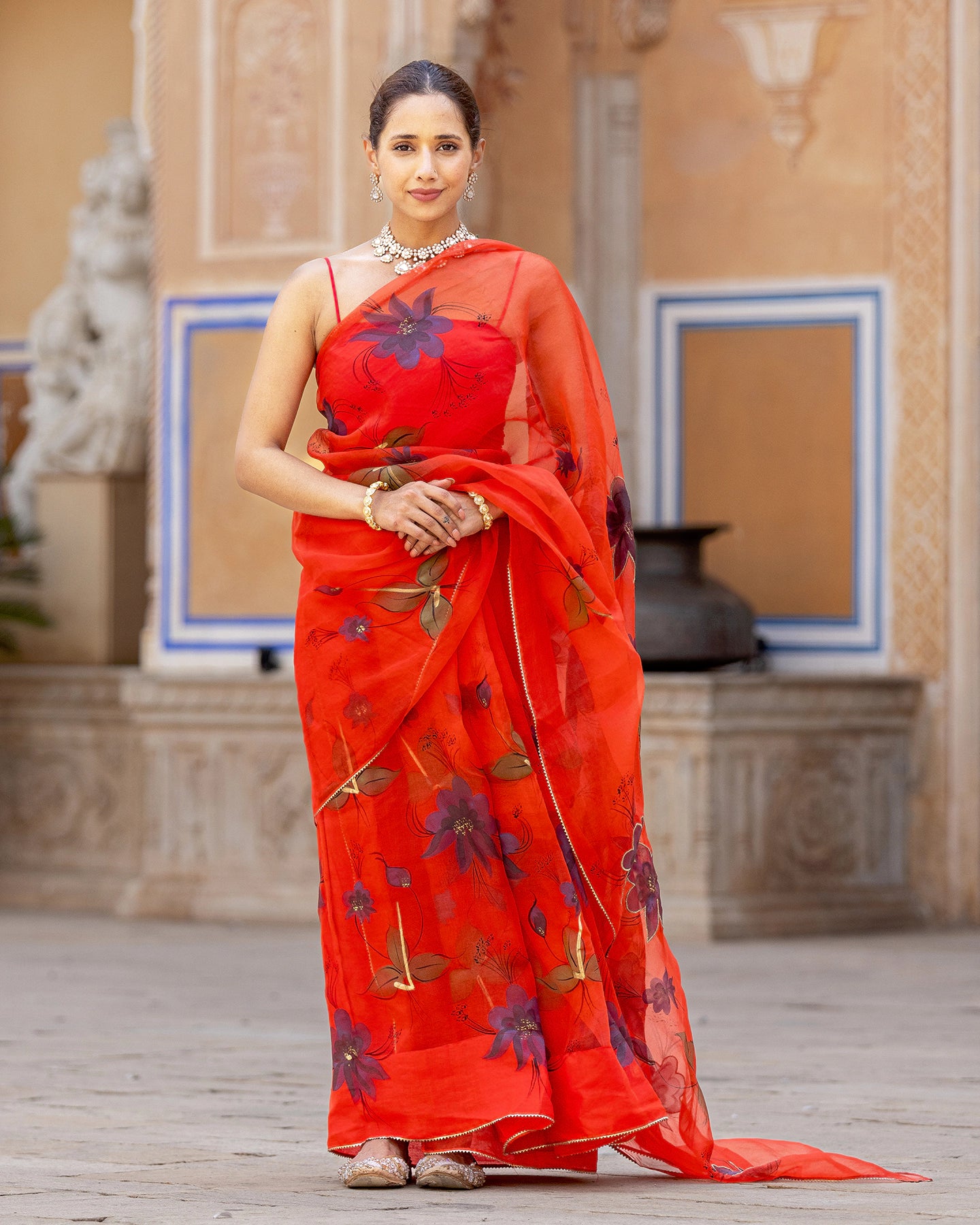 The sheer beauty of the organza drape with painterly floral strokes elevated with gold accents is indeed a fresh take on the traditional karwa chauth saree. If you are someone who breaks the monotony and embraces the new, this saffron drape is truly you!
Style Spell: Demonstrate a touch of elegance with a statement blouse design along with sophisticated jewels.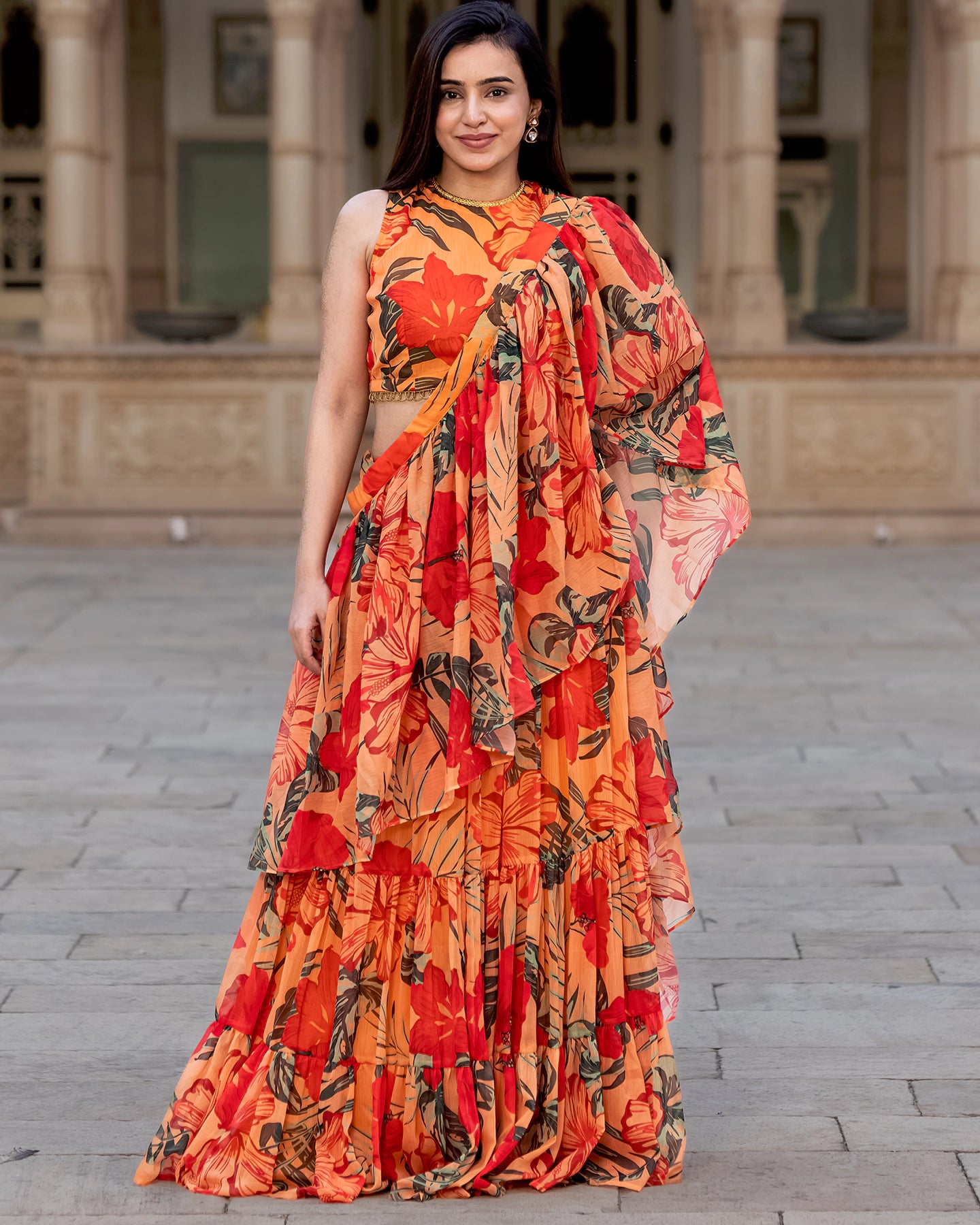 The pre-draped charm of the six yards of elegance is indeed the ease we were yearning for! Take an unconventional sartorial path in our tangerine and tropical concept saree for women with an iconic ruffle accent from our edit of Karwa Chauth outfits to gleam in the moonlit festivity.
Style spell: Ace your look in this not-so traditional karwa chauth saree with pearlescent accessories.
Explore the Karwa Chauth Outfits at Ambraee
Karwachauth is indeed a beautiful celebration, capturing the very essence of togetherness and love. We can't wait for you to stun in our cascading sarees, regal lehengas, and flowy anarkalis—whatever you'd pick from our Karwa Chauth outfits collection, we know you'd be an instant stand-out! For any assistance or queries, do reach out to our support team for a hassle-free solution. Your karwa-glow vines on Gram will be awaited! We'd love to feature you in our muse's diary, documenting your impeccable festive style story. Last but not least, have a magical festivity ahead. Wishing you and your partner a very Happy Karwachauth!