October is the time when we are swaddled in the divine numen of Shakti or Prakriti. Revered by many names across the globe, Durga Pooja, Navratri, or Durgostva, is a ten-day revelry celebrated in the Hindu month of Ashwin. This year, the celebration starts from the 15th of October'23 until the 23rd of October'23. Starting now up until a week calls for a serious sartorial upgrade! We, at Ambraee like always, are all decked up with our assorted line-up of Durga Puja outfits. From traditional something to fits with a contemporary tinge, our array of Durga Puja outfits has you covered and sorted for all the different looks you'd need to ace for an eventful festivity.
The Navratri Calendar:
As per the inscriptions in our ancient scriptures, the nine-day celebration marks the victory of The Goddess of the Cosmos, Maa Durga, against the vile shape-shifting asur Mahishasur. The festivity also marks the celebration of new harvests, signifying abundance and prosperity. Navratri is known as the celebration of nine nights where divine femininity and the very essence of creation are worshipped in the form of nav-devis. Numerous events entail the Navratri festivity, and you need to carefully curate your ensembles to groove through each of them with the utmost grace and elegance. For your quick reference, we are marking the calendar for the main festivities. Have a look!
20th October'23: Shasthi
21st October'23: Saptami
22nd October'23: Ashtami
23rd October'23: Navami
24th October'23: Dussehra
Start bookmarking your looks with our collection of trendy traditional outfits beaded in an array of the finest fabrics. Our assorted line-up of traditional dress for Durga puja ensures comfort, ease of movement, and fit for the autumnal festivity. Tailored to finesse with a tinge of contemporary designs and cuts, our round-up of Durga puja clothes for women captures the spirit of joyous festivity. Washed with jewel tones or soft hues, our Durga Puja outfit ideas are also an ode to heritage craftsmanship. Yes, each ensemble of our trending traditional dresses is detailed with prints and embroidery that take us to the glorious era of our craftsmanship.
Trendy Traditional Outfits Guide to Navratri:
So just get over the dilemma of "What to wear in Durga Puja?" and scroll down to get inspired like never before. Our Durga Puja new dress collection 2023 is going to conjure up your sartorial sensibility and put you under the silver spotlight! From opulent sarees to splendid suit sets and lehengas, our Durga puja outfits are all set to grace you through the rocking Garba night, pandal hopping, puja gatherings, festive brunch, and everything memorable. We at Ambraee are all here to assist you in compiling a hueful Navratri look—read further for style spells and handy tips on designs and silhouettes you can pick from our array of Durga Puja outfits. Keep a check on our size guide, and for any queries, reach out to our support team for hands-on assistance. Get inspired, fall in love, and explore your favourites from our Durga Puja outfit ideas now!
Trendy Traditional Outfits ft. Opulent Suit Sets to Grace the Pandal-Hopping and Festive Flea Markets:
Pandal-hopping and grub fests are two of the mainstays of Durga Puja. We all yearn for a glimpse of Maa Durga, and as the Pandals open up on the sixth day of Navratri, the divine form of Shakti unveils herself, blessing us with an infinite amount of abundance and peace. Sauntering around pandals and flea fests requires you to be comfortable in your skin, and for that, we suggest you do your best to pick from our collection of salwar suits for Durga puja. Our sumptuous suits for pooja are crafted in mellow fabrics like Doria, muslin, etc. and elevated with stunning designs and details. Durga Puja fashion is a reflection of gleeful fervour of the festivity, and one should don a visually arresting ensemble. We have curated a capsule collection of Durga puja outfits featuring an array of palatial suit sets for women. To explore more, hop on to our website now!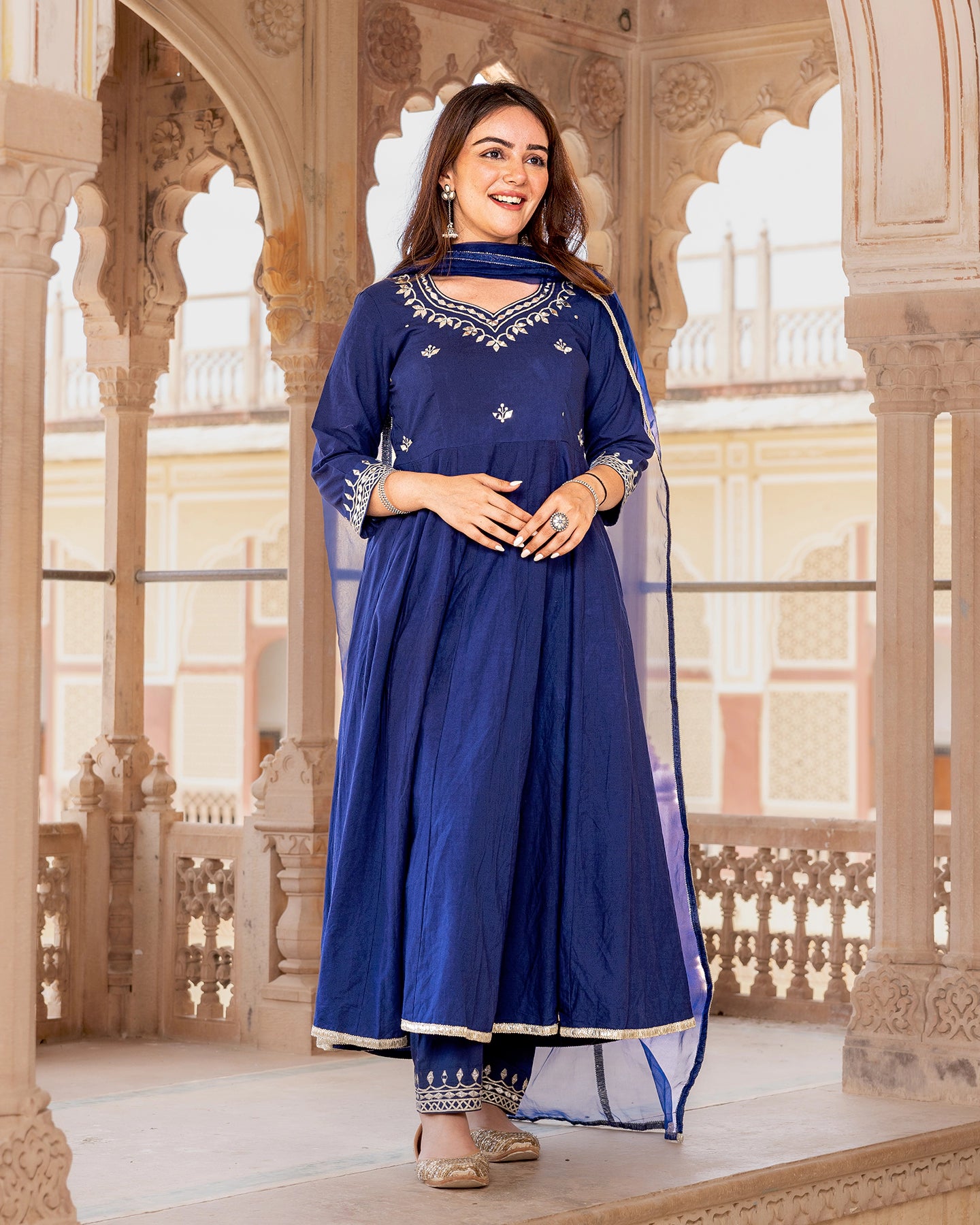 Crafted in mellow cotton fabric, this regal gota wonder from our edit of trendy traditional outfits is an apt ensemble for that pretty strut to the pandals. The Anarkali flare and comfortable fit are what you should fall for!
Style Spell: Compile a stellar look with a pair of chandbalis and a bindi.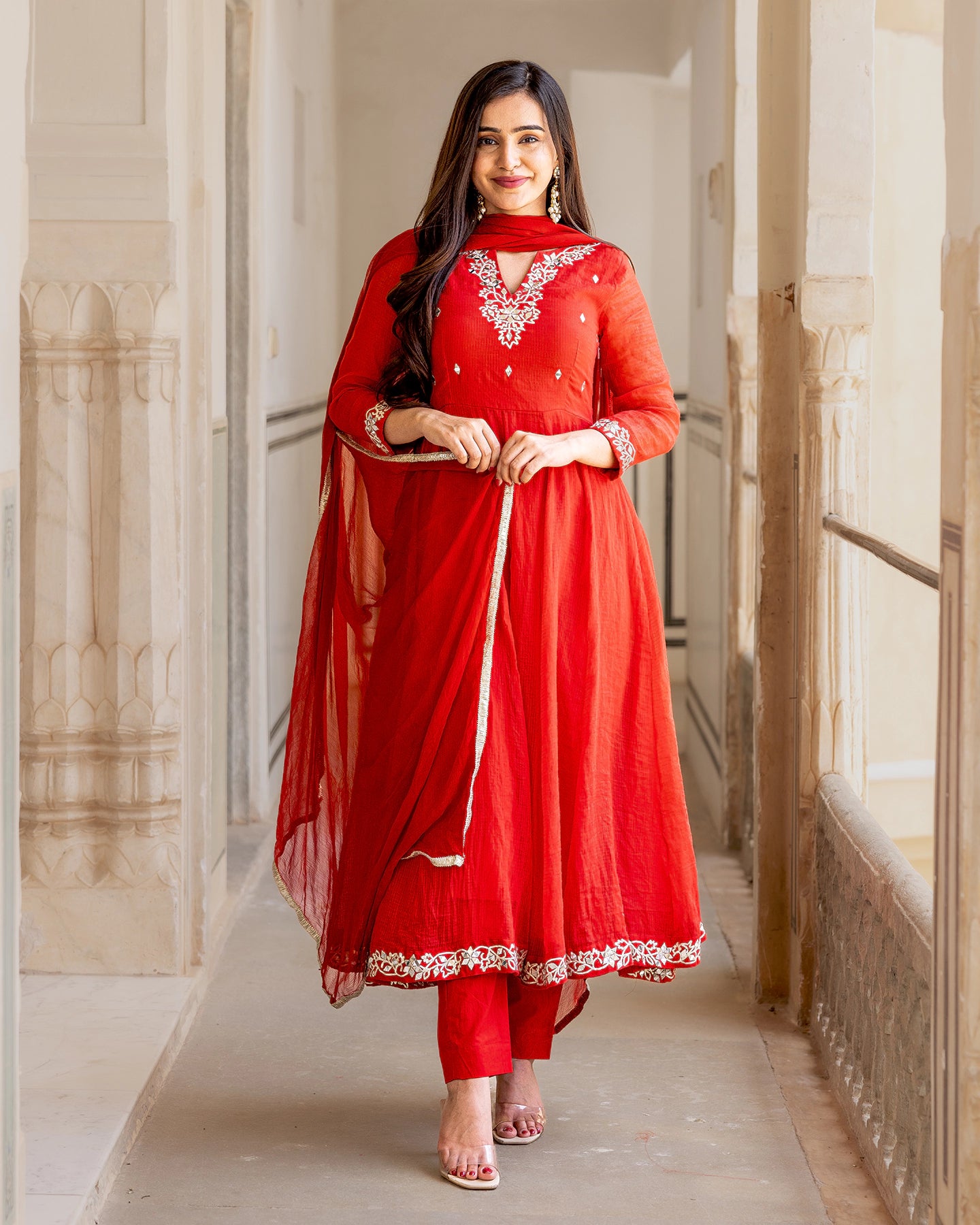 Take a traditional route by donning red to the pandal hopping spree. The colour itself is the manifestation of Shakti. Our Doria ensemble with Kaccha Gota notes is a noteworthy pick for the occasion from our edit of Durga Puja outfits.
Style Spell: Statement jhumkas and a bindi would complement the ensemble like magic!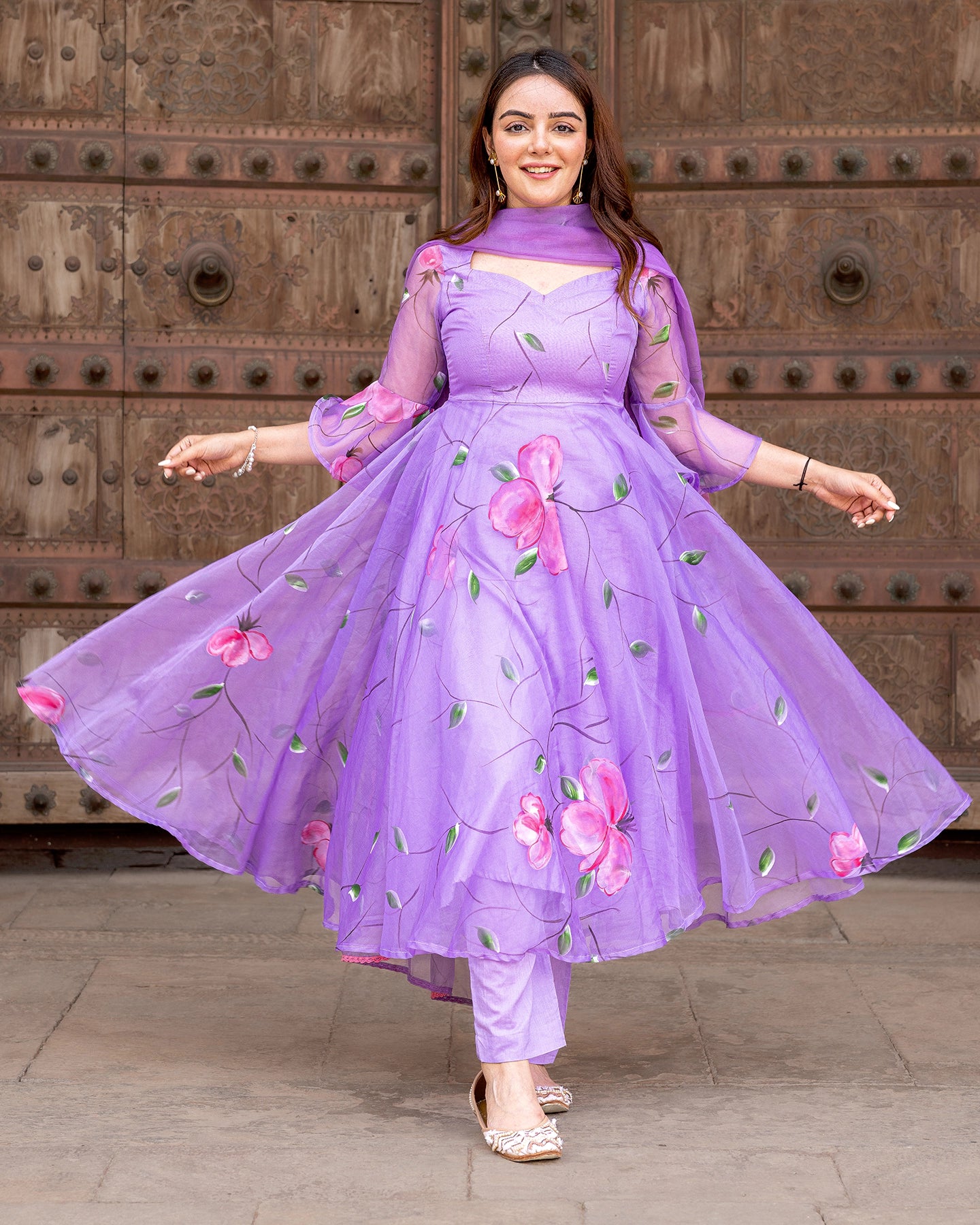 While you are in a constant quest for your best festive fit, we have something very unconventional in our edit of Durga Puja outfits. Presenting you our best selling line of hand painted suit sets, this lilac beauty would set you apart from the crowd and put you right under the silver spot!
Style Spell: Keep it minimal with delicate jewels and a pair of ornate mojaris.
Durga Puja Outfit Ideas for Intimate Festive Gatherings & Aartis ft. Six Yards of Grace.
The sadhana and aarti of the eternal source of creation connect us to our mind, body, and soul. This Navratri, do participate in the Dhunuchi aarti and other rituals to celebrate divinity and also pay homage to our soulful tradition. Make a statement in our array of dainty drapes crafted from the finest fabrics with ornate details. Pick your best saree for Durga Puja from our collective of drapes—style it conventionally or not; it's completely up to you! You can replay the drapes for other occasions, like wedding festivities, etc., and pull out a stellar look all year round. We are presenting a capsule collection of sarees that you might fall for. Visit our website to explore more.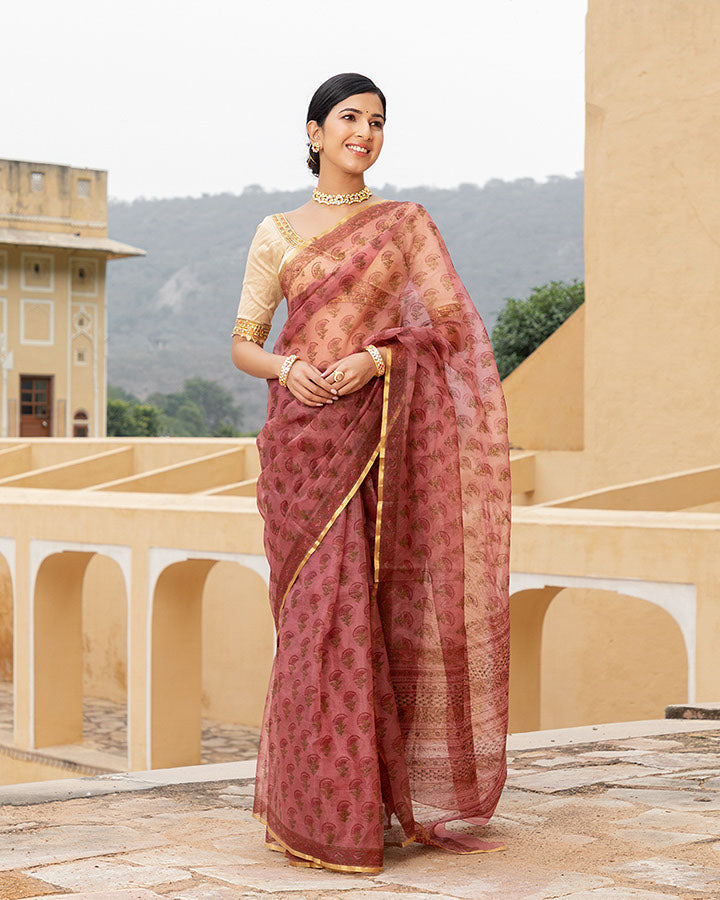 Step out to attend the puja aarti in our dainty rose organza drape. Ornate with charming handblock imprints, the saree from our edit of Durga Puja outfits stands out for its minimal appeal.
Style Spell: Compliment the ensemble with a whiff of gajra and a pair of jhumka.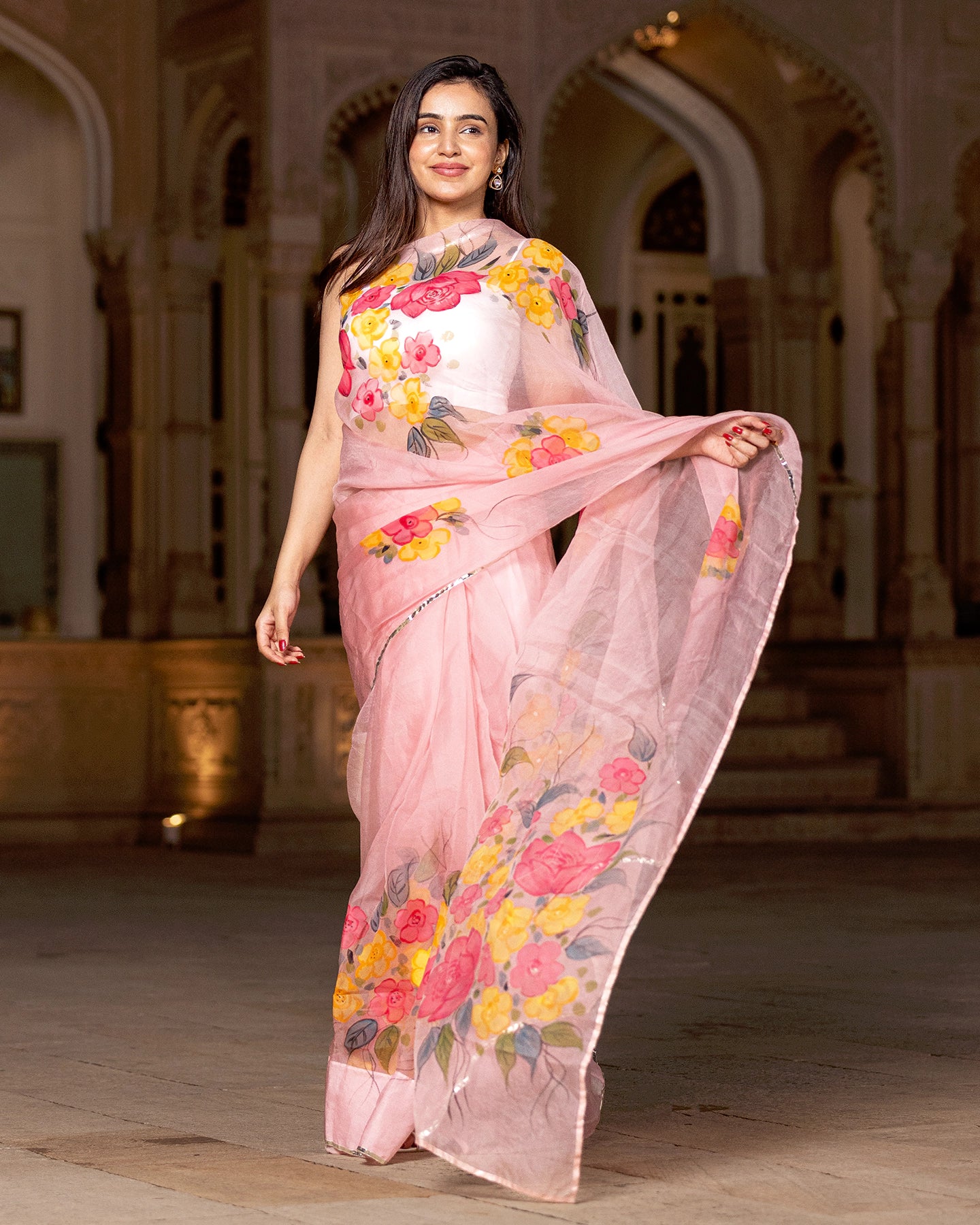 Gleam in our green organza drape, beaded with the glint of the charming foil print tale. Go for an unconventional drape style to stand out further in our opulent saree from the Durga Puja outfits collection.
Style Spell: Demonstrate your charm with a deep-rimmed kohl look along with a pair of statement jhumkas.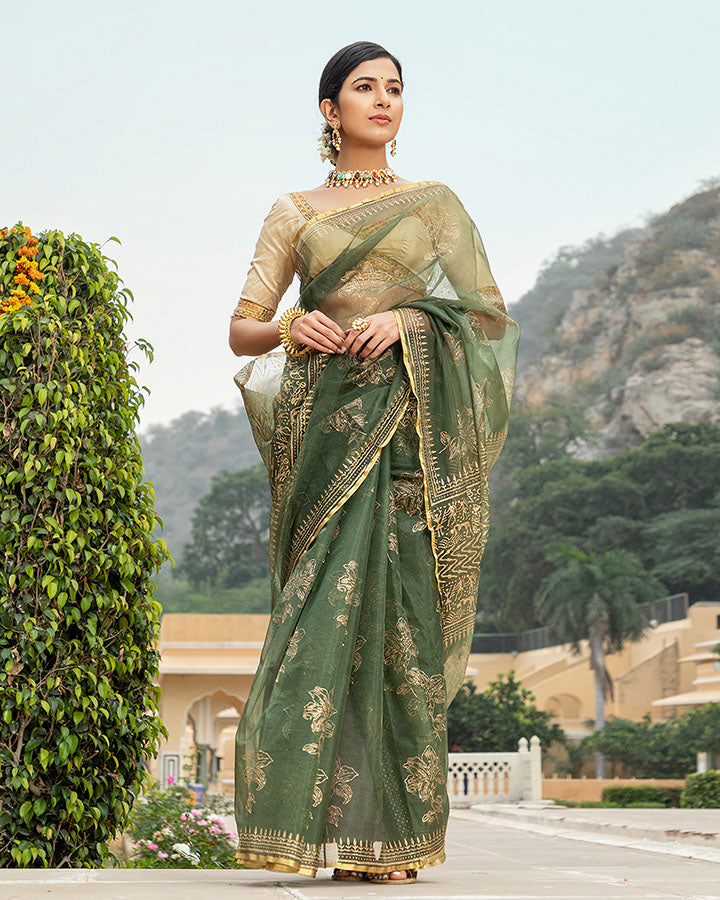 The sheer and sorbet tale of painterly florals blooming on our organza drape is a perfect pick to attend the Puja. This wearable art from our edit of Durga Puja outfits is perfectly in-sync with its minimal gota-lining and floral appeal.
Style Spell: Complement the ensemble with a statement hairdo, a pair of jhumka, and a bindi.
Garba-n'-Dholida ready in Glimmering Lehenga Choli:
Come to the second and most frolic mainstay of the puja, the Dandiya, or the Garba Gala. Dressing up to the nine and beyond is a must; do that in our high-shine lehenga choli for women that we included in our edit of Durga Puja outfits. Even if you mess up your steps a bit, make sure you cover that up with your gota and trinkets embellished ensemble with a happy twirl! Below we have presented a glimpse of our lehenga ensembles from the Durga Puja ethnic wear issue. To explore more, visit our webshop.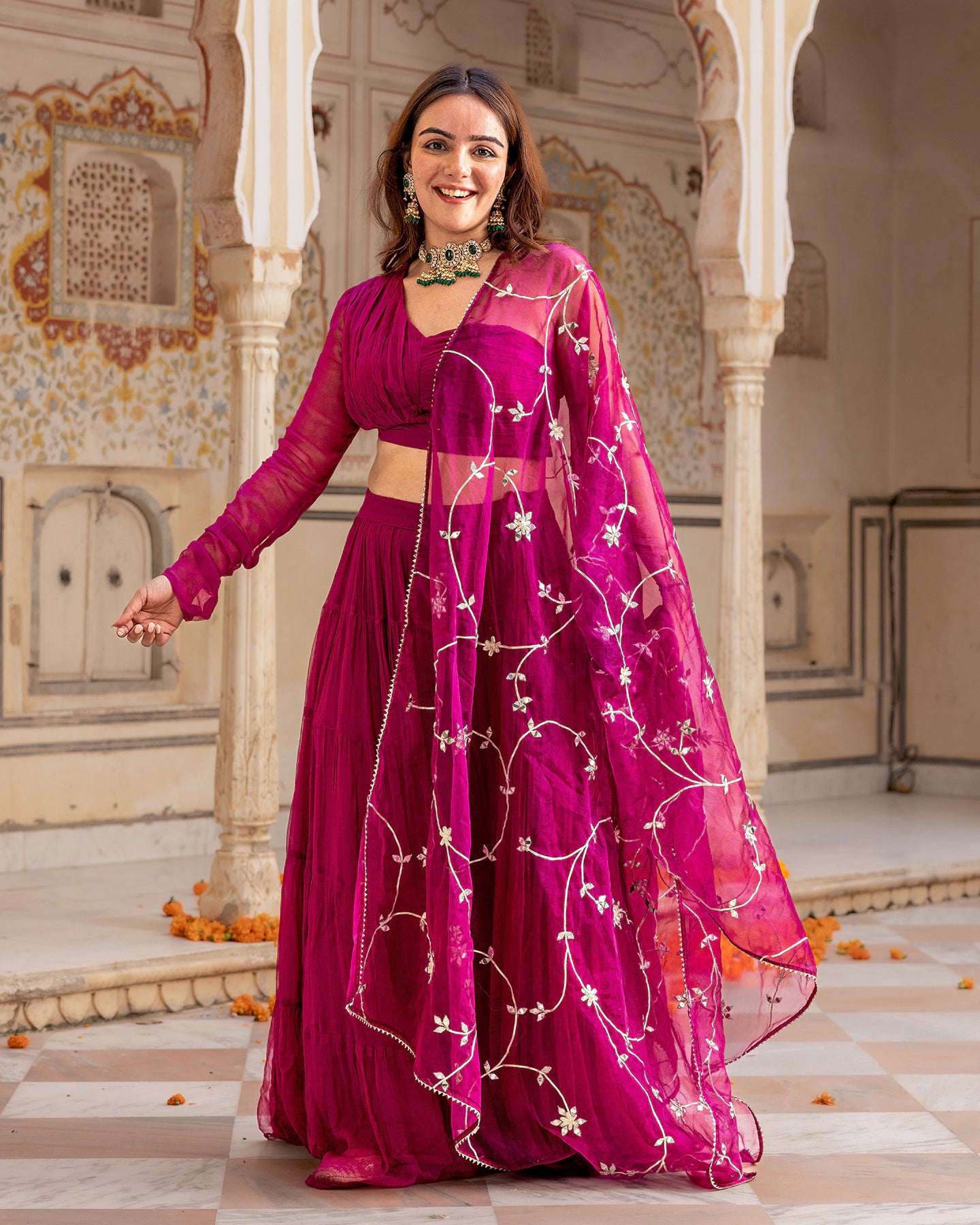 No Dandiya or Garba look is complete with a bit of glam and drama. Go overboard in our tiered and pleated lehenga ensemble with a statement one-shoulder choli. Bedecked with a kaccha gota accent, this palatial purple from our Durga Puja outfits edit is going to serve you the ravishing look you truly deserve!
Style Spell: Go for a choker and a head accessory to complete the look.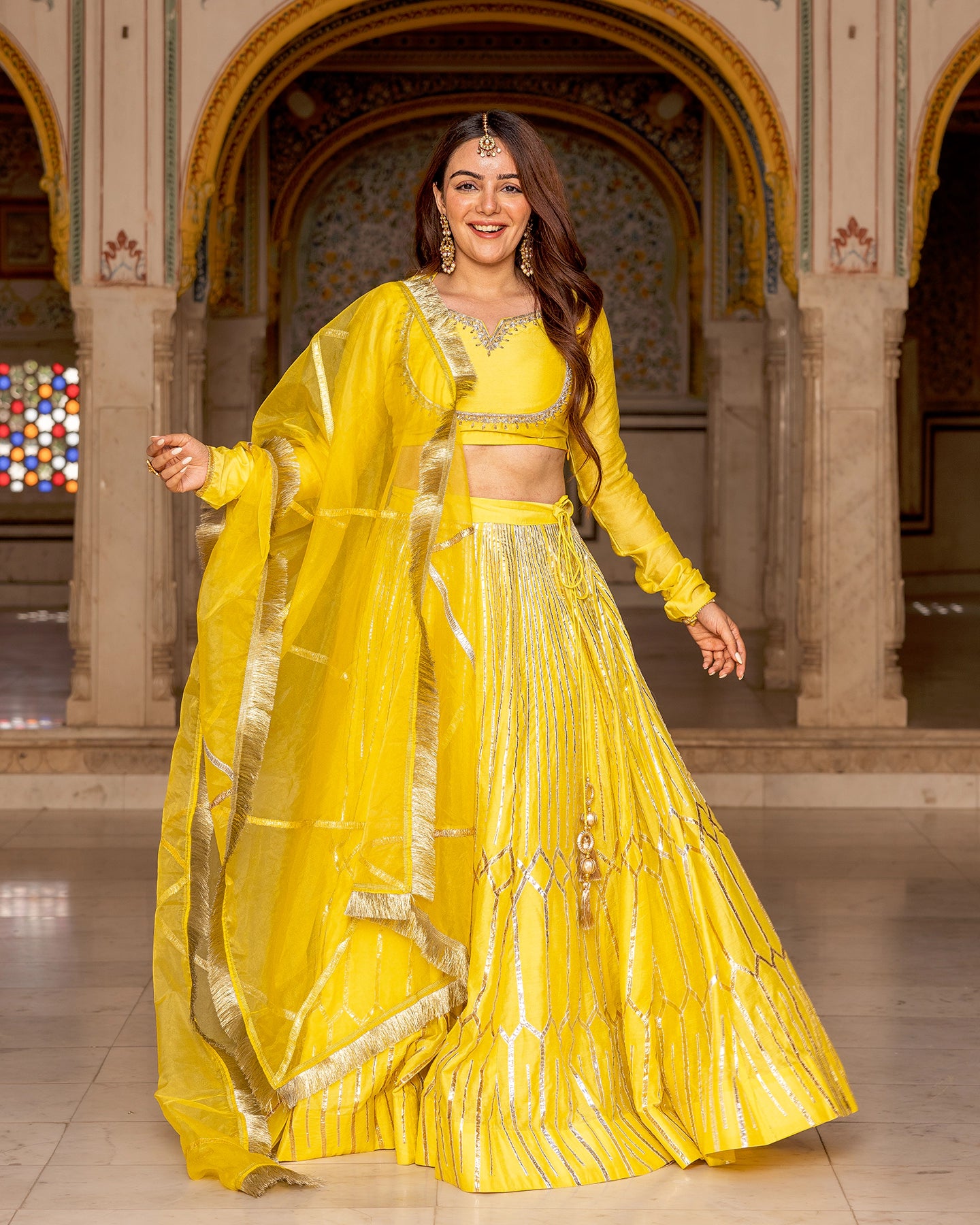 The spellbinding juxtaposition of gota and tassels on the charming Chanderi canvas is what Garba dreams are made of! Pull up a bright yet glimmering look in our sumptuous lehenga ensemble from our issue of Durga Puja outfits.
Style Spell: Spill the glitz with a statement head accessory and a pair of jhumkas.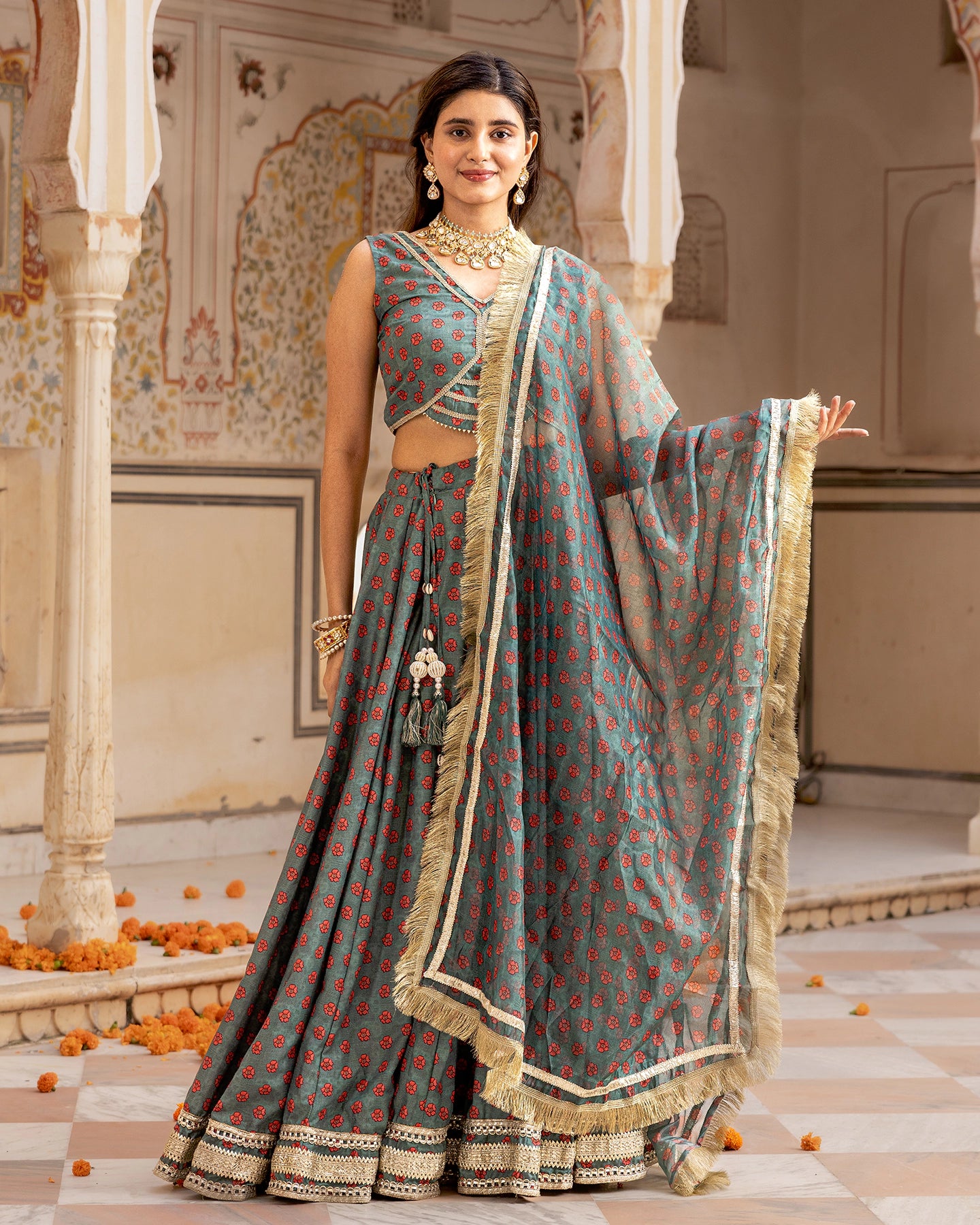 Stroked with ditsy floral detail and stunning style lines layered with kaccha gota, our sage green muslin lehenga ensemble from our collection of Durga Puja outfits is here to serve you an iconic Dandiya look. Twirl in the gorgeous flare of the ensemble and enliven every beat of the garba mix!
Style Spell: Complete your look with a pair of jhunkas and bracelets.
Explore Durga Puja outfits at Ambraee:
Your search for the best Durga Puja outfits will be fulfilled at Ambraee; you have our word on this! We understand the sartorial needs of the bright festivity along with the comfort quotient. Each of our silhouettes is a living testament to our love for exquisite craftsmanship and splendid details. As we roll out the symphony of sartorial elegance, make sure to be our muse. For any queries or assistance, do reach out to us; we'd be there to fix it in minutes! Apart from your quest for the best Durga Puja outfits, do take a look at our collection of co-ord sets for women, dresses, and trendy kurta sets. We assure you there's always something more to explore at Ambraee. We keep updating our collection with new creations, so stay tuned and follow us on Gram, Facebook, etc. We'd love to feature the stunning you on our prestigious pages of Muse's Diary, showcasing your stellar festive styling. Looking forward to it and wish you a very Divine Navratri.